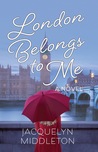 London Belongs to Me by Jacquelyn Middleton
My rating: 3 of 5 stars
Overall:
Although not the most original rom-com, London Belongs to Me is an easy and enjoyable read for your average Anglophile fangirl, on a rainy afternoon.
The Good:
It's literally such a sweet book, things are easy and the problems are easily resolved it's such a quick fun read and I can't overtly hate it.
The descriptions of London and Manchester were very authentic to me, this comes as someone from Manchester who has lived in London and it brought a smile to my face at how seamlessly the backdrops felt.
The story takes place over the course of a year so the whole story feels earned
The Bad:
Sometimes it's so sweet it was boarding on corny
For a book about a fangirl most of the references felt kind of tacked on
The main character starts a play about the intricacies of women, Olivia is such a one-dimensional villain that I was kind of disappointed that she was still a bitch at the end.